I will describe step by step how to connect to the server:
Account registration from the game is open, so you set up an account in the game
.
The server has a clean patch 1.13c with a mod created by Green.
Every day at 4:00 the server is reset, I recommend to leave the game before this time and wait patiently until everything returns to normal. Temporary problems with creating games can take from 2-20 minutes. I recommend patience.
1. 

Register on the D2Realm forum, read the server rules. You register your accounts from the game. Account registration is open all the time.
    Keep the same account name in the forum and in the game. Multi acc is banned.
2. Install "Diablo II" and
 expension set
 "Lord of Destruction
" on
 your
Computer.
3. The easiest way is download and unpack into the game directory Acheron Pack. Run acheron.reg to add D2Realm gateway. Acheron Package includes Acheron Mod+D2GL Mod+StingHackMap+Gate. Run "Diablo II.exe" (if doesn't work try Windows XP SP3 compatibility mode. If this doesn't help you can try futher steps).
4. Download and install Patch 1.13c. Install by unpacking the package into the game directory, overwriting existing files (the package also includes a mod that introduces several improvements, including a larger box, WP to Cow Level).
5. Download 
Gateways Editor
.
6.

Run Battle.net Gateways Editor and in the card "Diablo II" press "Add Gateway". 

In "Name" field type server name "Acheron"

, in "Zone" "1",




in "IP" field type "pvpgn.be3.ovh" and press "OK". BackUp Gateway: "pvpgn2.mooo.com".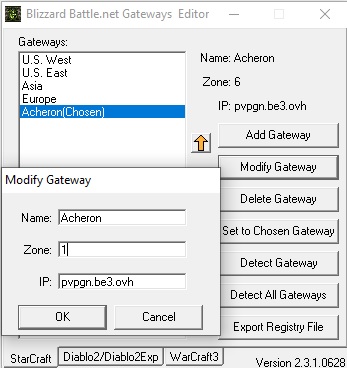 7.
By means of "Set to Chosen Gateway" button you can set "D2Realm" as a default gateway.
8. 

Start game and enter Battle.net. Make sure you have selected gateway "D2Realm".
9. 

Create Account and enter D2Realm.net Server with your login and password.
10. In character window choose D2LoD Realm (version 1.13c).
Additional files:  
Patch+Sting map hack+mod D2trade